27153.03 KM
IN ONE LIVE CONVERSATION
FROM 11 COUNTRIES AND 15 CITIES
WHERE PEOPLE ARE LOOKING AT YOU IN SILENCE
IN A CALL BY PAULA ONET


LIVE video-performance installation, 2 channels
a project by Paula Onet

Project developed for the "Video Installation" class
Coordinated by prof. Emilio Martínez and Vicente Barón
production UPV - Facultad de Bellas Artes Valencia and UNARTE Bucharest - Master of Photography and Dynamic Image
supported by I.F. Radu Onet
​
SINOPSIS
Skype is usually used as a communication medium with words ("Skype keeps the world talking") but how about using it just for looking?
First of all, I've decided to use Skype because it virtually connects people and for me it became a lifestyle. Secondly, I wanted to create an exhibition with "vivant images", with people being live and alive. Those who take part of it are projected on 2 big screens, meanwhile being connected online on Skype in a silent conversation with the public entering in the exhibition room.

First experiment took place:
on Tuesday, 16th of December 2014
in Faculty of Fine Arts, UPV Valencia, Spain

On Skype there called people from New York, Belgium, Mexico, Greece, Italy, Hungary, Wien and different cities from Romania and Spain. There were different distances between countries and the distances between people, distances that sometimes don't exist or they are canceled when people get virtual. When the people entered in the exhibition room, they saw on 2 opposite walls, 15 small screens with people live, people from very far away and people from very close. Nobody spoke to the public, only when they were asked or provoked. The intention was to create 30 min of "virtual silence".

This project was developed for the Installation class, coordinated by the prof. Emilio Martínez and Vicente Barón.
"Couldn't stop smiling because of the joy felt due to the connection. It's was a feeling of aliveness that said:
<I'm here, I'm alive, You are too, how miraculous, let's celebrate!>¨
MAYA KOVACS (PARTICIPANT FROM rOMANIA)


SEE BELLOW THE PROJECT DOCUMENTED AND EXPLAINED IN SPANISH LANGUAGE

¨At first, I didn't know what was going on. But then when we all entered skype video room, funny vibe was around.

Someone smiled and we all smiled without any words... Although we were all in our own bedroom, it was as if we were meeting people in person for the first time.... In the end, I thought, what if this is us in in 50 years? No more traveling, no more school, but just group chatting from my own room? It was new experience.¨
SOOHYE JESSICA JANG (PARTICIPANT FROM south korea)
Powered by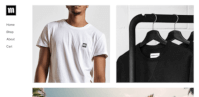 Create your own unique website with customizable templates.